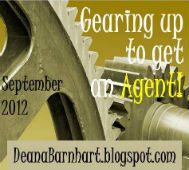 I've been waiting for this day for over a month and I'm super stoked it's finally here. I participated in the first GTGAA Blogfest last year and it was incredibly fun and informative--this year is
gearing up
(you like that, huh?) to be even better!
As the title suggests, today is the first of the month long festivites and it begins with a Q&A followed by a cordial hop to and fro the blogosphere. Now, for those of you who don't know I'm a pretty laid back kind of guy. I try to find the bright side of every situation because I rather be hopeful than worried, depressed or angry. Not to mention, the strain those type of emotions can have on your overall health. I spend the majority of my day imaging how my life will turn out instead of actually working at my desk. Yeah, it's a habit I can't kick but picturing what you want is a big step in attaining it; just don't forget there's a real world outside of your head. I have two sisters who are incredibly smarter than I am and who, no doubt, will be very successful women; a single mom who works hard everyday to provide for them and a brown pitbull named Ginger (of course) who has the prettiest hazel eyes I have ever seen. All in all, I guess my life is pretty nice.
All right then, onward to the questions:
Where do you write?
That depends on where I am at the moment. I can't really help where inspiration strikes so I have to be prepared at all times. I'll do a little somethin' somethin' at work, in a cafe or sprawled out on my bed full commando. But it's more the former than the latter. What? TMI? Pfft...as if I'm the only person in the world that writes in the buff? Please. How do you think J.K. Rowling wrote Harry Potter?
Quick. Go to your writing space, sit down and look to your left. What's the first thing you see?
A picture of Carmen Electra on the cover of Playboy.
Favorite time to write?
Definitely at night. Something about the dark and writing seems alluring. I can't quite describe it (considering I'm a writer that makes me a giant FAIL) but from ten to twelve is my sweet spot.
Drink of choice while writing?
Never tried it but if liquor helps get the juices flowing then by all means I'm down. (Wait...combined with that first answer the word "juices" doesn't help me at all, does it?)
When writing do you need music, or complete silence?
Oh god, complete and utter silence. I cannot think in noise AT ALL. This is why I know I'll make a terrible general because I'll be flustered and all my plans will be furked up because of it. I don't want to be responsible for my poor soldiers running into battle on my faulty command. Same goes for my imaginary characters.
What was your inspiration for your last WIP and where did you find it?
That would have to be my MG, which I've been working on, like, forever. The idea behind the Alterheroes came from a tragic loss in my family. It's one that hit home for me because I had never liked the person. But maybe if I were there...things would've turned out differently...
You never miss the water until the well has run dry.
What is your most valuable writing tip?
After twelve years of doing this (amazing how the time flies, right?) I can say without a doubt that letting things simmer is better than acting in the moment. If you get a rejection, critique, bad news or anything of the sort that isn't to your liking, take a moment to let it sit before doing anything rash. You can't edit a SENT email nor can you redact a verbal bashing. "A still tongue keeps a wise head," my mom always says.
And that's it! Thanks to Deana for hosting this again. Thanks to the agents for taking the time to help out. And thank
you
for stopping by!
Much love. <3